With Autodesk's ongoing obligation and investment to advanced manufacturing, they are integrating next-generation workflows that are completely unmatched in the industry.
Why the change?
As the design and manufacturing industry has grown, so has the presence of task-based products. These are products that have been developed with the end- task in mind (e.g. CAD/CAE/CAM). The challenge here is they fail to sufficiently consider the needs of the people that must use this technology as part of a product development process.
Advancements in cloud computing and mobile technology, in combination with automation, are bringing new means of agile, collaborative working to manufacturing. To take advantage of this shift Autodesk built Fusion 360 to re-imagine the product development process and provide people with access to their data in a connected, flexible, and seamless way.
How can I benefit from this change?
This new packaging positions you to work in new ways so you can begin to take advantage of the next generation workflows available in Fusion 360 with FeatureCAM.
The newly built infrastructure of Fusion 360 allows Autodesk to not manipulate it but also customise the software in a form that may not be possible in some of the more mature products in the portfolio.
What we have drawn from this is the fact that Autodesk built Fusion 360 with the end task in mind – reimagining the full product development process by providing people with access to their data In a seamless and unified place.
Let's not forget – Fusion 360 has a lot of power in not only manufacturing but also the CAD portion. With this new update, FeatureCAM users can get the best of both worlds.
I am a FeatureCAM user – does this change things for me?
Yes, but only in a positive way! This packaging change provides access to broader tools across design and manufacturing, as well as Autodesk innovations with intelligent automation. In addition to retaining use of FeatureCAM, they will be including their latest manufacturing developments through both Fusion 360 and the Fusion 360 – manufacturing extension as part of single-user subscriber benefits, so you can continue to access the technology that they rely on today, as well as technology that will shape your work tomorrow.
This new collaboration of powerful software also gives you access to FeatureCAM Ultimate, PartMaker, Fusion 360, Fusion 360 – Manufacturing Extension, Fusion Team, and HSMWorks.
If you are a single-user subscriber once your existing subscription has transitioned to a new Fusion 360 – with FeatureCAM subscription you need to:
Log into your Autodesk account and re-assign users in user management
You can assign by the user or by product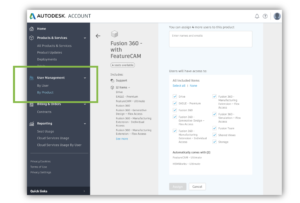 If you are a FeatureCAM Premium single-user subscriber once your existing FeatureCAM Premium subscription has transitioned to the new Fusion 360 – with FeatureCAM subscription you need to:
Log into your Autodesk Account and download FeatureCAM Ultimate to continue your FeatureCAM access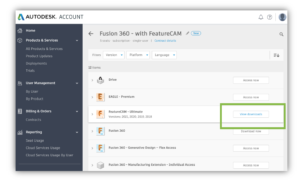 Fusion 360 now holds all of the 'power' products from Autodesk. See our quick overview video below to explain more:
For further information on this new update and rebrand get in touch with our technical CAM team who will be able to assist. To learn more about FeatureCAM with Fusion 360 head to our product pages.