Designing an effective drainage system is one of the most demanding, expensive and frustrating elements of any modern build project – and with global weather becoming ever more unpredictable, that doesn't look set to change any time soon.
All of which makes Autodesk InfoDrainage more vital than ever. One of the most acclaimed toolsets released by the US software pioneer, this advanced full design and analysis solution delivers fast, economical, sustainable and regulations-compliant designs to fast-track the Building Information Modelling (BIM) cycle.
If you're considering bringing InfoDrainage into your business – or upskilling your team with InfoDrainage training – here are five watertight arguments for doing so.
Seamless data flow
As every experienced engineer knows, the drainage design workflow can be fragmented and infuriating, with data scattered across multiple platforms, design packages and files – and a big risk of oversight and error. One major argument for InfoDrainage is this toolset's ability to leverage multiple data sources (from CAD to GIS) using straightforward data import functionality. With everything streamlined, logically rendered and right at your fingertips, it's far easier to create and adapt designs in-plan, refresh connected site layers and react to a bird's eye view of the entire drainage system design.
Ideal for green infrastructure
Any modern drainage system must keep green infrastructure in mind – an obligation that can shut down options and suffocate creativity. InfoDrainage could be the solution, letting designers visualise exceedance routes and blue/green corridors from the start of the planning process, therefore making it easier to assess overland flows for optimal spatial planning. This toolset even offers revolutionary sustainable urban drainage system (SuDS) representation, plus analysis tools to show how all the onsite structures are performing and swiftly spot problem areas.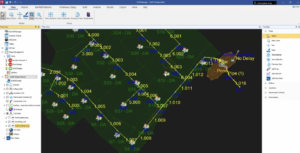 In addition, designers can drill into detailed hydraulic representations and animated profile views, while being reassured that their proposal works thanks to InfoDrainage's warnings feature.
Smoother BIM workflows
We've touched on the frustrations of traditional drainage system workflow and the problems it can raise. Bear in mind, too, that these outdated methods will prevent your Building Information Modelling projects from taking flight, and put limits on the potential of civil design software like Autodesk's Civil 3D. As such, it's important to know that InfoDrainage has a dedicated link inside Civil 3D to allow seamless data round tripping. It all brings your project – and team-members – onto the same page.
Increased buy-in from stakeholders
As the project moves forward from the drawing board, it's vital to prove to stakeholders and decision-makers that your drainage system proposals will function effectively, while also demonstrating compliance with a catalogue of regulations and red tape. Regardless of your audience's technical knowledge, InfoDrainage can help secure buy-in – and avoid laborious resubmissions – with its highly visual interface, graphics-based walkthroughs and groundbreaking use of simulations.
An easier review & approval process
Setting up and formatting reports to satisfy review requirements is one of the hardest parts of the drainage design process. Once again, InfoDrainage is invaluable, allowing you to automate the report development process and deliver logical, easily digestible outputs that mean design solutions gain approval faster. From the customisable report builder that sets out the design specifications, to the audit reporting tool that lets you tick off your design against local and national regulations, all it takes is a few clicks of the keyboard.
The UK's most trusted Autodesk InfoDrainage training
Autodesk's popular drainage design software is powerful and intuitive, but the fastest way to get it working for you is to enlist Cadspec's InfoDrainage training. We're fully accredited by Autodesk and passionate about teaching the skills you need to get the most from every aspect of InfoDrainage. Rest assured that when you choose Cadspec's InfoDrainage training – from our Introduction course to more advanced workshops – you'll work with seasoned tutors who focus on your business-led targets and always move at your pace. You couldn't be in safer hands.