As a business owner, you can recognise the importance of winning the best talent to your cause. Likewise, you know that any effective workforce needs the right tools to excel at the job. But it's all too easy to overlook the vital third strand of maximising your people power. Staff training isn't an afterthought – it's the catalyst for any dynamic business with one eye on the future.
The US Founding Father Benjamin Franklin once noted that "an investment in knowledge pays the best interest". Almost three centuries later, those words still ring true in the modern labour market, whose statistics undeniably point to the benefits of employee training on everything from staff performance and retention, to bottom line and business reputation.
As the UK's favourite providers of Autodesk courses and CAM training, we've welcomed clients from across the gamut of industry, and seen first-hand the benefits of staff training on their business. Here's what you need to know.
What are the big-picture benefits of staff training?
Any dynamic business exists in a state of flux. Strategic goals change, market trends march onward, technology evolves – and each new development demands that the workforce either masters a fresh skillset, or becomes more of a drain than an asset to the organisation.
A commitment to staff training is the answer. By instilling a knowledge base and improving job skills, management ensure their staff are prepared for the changing demands of the business, able to work more efficiently and deliver better results. A reputation for training opportunities also attracts the best new talent, while making existing staff feel valued, invested-in, equipped to progress within the organisation and less likely to move on.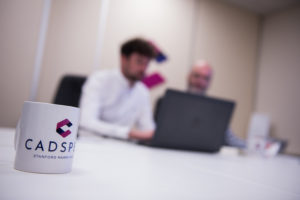 No wonder that – according to the LinkedIn Learning 2021 Workplace Learning Report – upskilling and reskilling is now the number-one priority of learning and development programs within many firms. Staff training isn't a luxury – it's fast becoming an expectation.
What are some specific benefits of staff training?
Business moves pretty fast, but staff training helps your people keep pace. Maybe you're onboarding a new hire with an AutoCAD course on essential skills. Sharpening up a veteran staff member with advanced CAM training. Improving vital 'soft skills' like time management and communication. Or even educating the entire workforce on the company's new values. In every case, systematic staff training will reward you with an upskilled and energised team who perform better and maximise bottom line.
Meanwhile, in the age of remote working, it's more important than ever that scattered workforces are on the same page and collaborating effectively. That's another core argument for an embedded training programme, which could teach anything from the best teamworking practices to a company-wide expertise in a new software package. The result: a closer work community, reduced need for supervision, fewer mistakes, less wasted time and fewer workplace accidents.
The benefits of staff training aren't just obvious on the balance sheet, but are also felt in the HR department. While the best new talent is attracted to your organisation without the need for lengthy and expensive searches, training-led businesses also benefit from better staff morale, more internal promotion, faster career advancement and less desire to move on. In fact, one recent study discovered that at a typical firm, employee turnover fell from 89.6% to 56.7% in a single year after a credible training programme was established.
The cost of neglecting staff training
If the benefits of training staff are becoming clear, then neglecting your people's development is potentially ruinous. Again, the most obvious cost is turnover. A recent study by The Work Institute revealed that a lack of training is the fastest-growing reason why staff choose to leave their posts (up 117% since 2013). It's estimated, too, that a typical firm spends more than £11,000 to replace a valued employee – and that's not including the lost productivity.
Even for the staff who remain, the repercussions will be felt at every level of the company. Demoralised, undervalued and ill-equipped to use the tools at their disposal, these untrained workers are liable to make mistakes, lose customers, waste materials and grow ever-less effective as their skillset falls behind. Indeed, another recent report found that productivity was 23% higher for trained employees – while the argument that employee education is too costly an investment is countered by an IBM report that suggests proper skills training can garner more than £50,000 in yearly savings.
Perhaps Richard Branson put it best. "Train people well enough so they can leave," advised the entrepreneur. "Treat them well enough so they don't want to."
How to get started with staff training
If your organisation is broaching the subject of staff training – or is about to overhaul a long-outdated system – the challenges can feel overwhelming. The good news is, employee education needn't feel like a mountain to climb. At Cadspec, we specialise in supplying the Autodesk Courses that suit you.
Perhaps you want new hires to hit the ground running with our Essential Skills course in AutoCAD Mechanical or AutoCAD Electrical. Or maybe you'd prefer to personalise your Autodesk course, cherrypicking the most relevant topics for maximum ROI, and enlisting our trainers to provide a bespoke training day.
When it comes to Cadspec's Autodesk training, we're just as flexible on the format. We're always happy to welcome you to our centres across the UK for traditional face-to-face training, or provide onsite training where our experts visit your workplace. But for those who prefer to learn at a distance, our online training puts training possibilities at your fingertips, wherever you are in the world.
To learn more about Capspec's courses and CAM training, call the team on 01905 458000 or email info@cadspec.co.uk