AE Aerospace is a machine to print, subcontract precision machining company for the aerospace and marine, civil and defence industries. The company manufactures low to medium volume prototype components, through to original equipment and higher volume manufacture, together with spares and legacy parts.
The business currently employs circa 65 people and is growing, despite the impact of Covid-19, which has hit the sector hard. AE has won some large orders through the pandemic, with further contracts continuing to come through all the time.  AE has a wealth of high-end computer numerical control (CNC) machines in place – all with advanced technology integrated. It's a well-skilled, well-versed, and well-experienced organisation.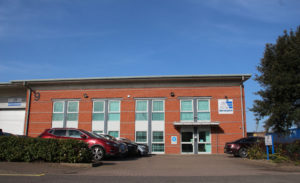 Changing the approach
AE Aerospace uses CAD/CAM software to develop offline programs for manufacture on the shop floor. To drive efficiencies, the company is looking to do all the programming within the engineering office and have nothing carried out at the machines themselves. AE's previous software system was, however, failing to deliver the speed and efficiency it was looking for. The company needed to find an alternative that would enable more upfront engineering to be done before a project hit the shop floor for manufacture, thereby avoiding spending unnecessary time creating programs at the machine.
AE sought out a solution that would allow it to keep the machines running and producing, while the development work is done in the office.
The seeds of a solution were formed at an industry event when contacts from AE Aerospace and Cadspec, the leading Autodesk reseller, first met. AE was looking for a solution capable of delivering expert CNC programming strategies for complex three- to five-axis manufacturing. And Cadspec had expertise in relevant Autodesk software solutions, including Fusion 360 with PowerMill® CAM software.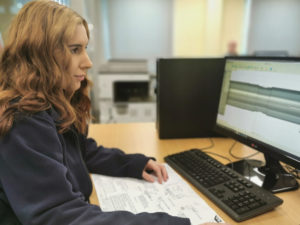 Scoping out a way forward
Working in conjunction with Autodesk, Cadspec visited the AE Aerospace site and ran a demonstration of Autodesk® Fusion 360 – 3D CAD/CAM for Product Design together with Autodesk PowerMill® CAM software. AE Aerospace could immediately see the benefits not just in terms of the capability itself but also with regards to having all this rich functionality integrated or amalgamated into a single software package. AE decided to order the software solution from Cadspec, seeing the wider picture and long-term confidence in building a collaborative technical working relationship.
PowerMill also comes with access to Fusion 360 from Autodesk. The CAM functionality in Fusion 360 allows AE Aerospace's engineers to develop machining programs offline for the purpose of continuous improvement. Part of Cadspec's role is showing AE Aerospace what the CAD software is capable of alongside what they have already bought, and it also offers training on the solutions.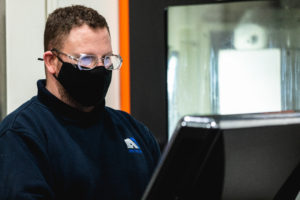 When Covid hit, AE had already loaded the software and started using but they did not initially take up the Cadspec training. While there has been very little onsite training at AE Aerospace over the past 12 months due to the current situation, two of the company's engineers recently attended Autodesk Fusion 360 training onsite at Cadspec.
Shifting the focus of development and engineering
The biggest benefit that AE Aerospace attains from the Autodesk software comes from its ability to support fast and efficient offline programming to enable the development of jobs in the office rather than on the machines. The software also boasts high-quality simulation accuracy and the ability to run clash detection.
It also allows engineers to model far more complex shapes than would previously have been possible and support five-axis machining. Another major advantage is that Autodesk streamlines the link between design and manufacturing. Changing the design of a fixture or assembly is a lot easier if there is a parametric link between the CAD and the CAM software that allows users to switch quickly from one to the other.
Recently, another benefit AE Aerospace has discovered from using Autodesk Fusion 360 is the ability to develop some 3D-printed fixtures and tooling. AE can now produce the whole set-up for that from within Fusion 360 before it machines any elements.
Brian Hawkes, Project Engineering Manager, AE Aerospace, said:
You can build an assembly. You can take the assembly and hide parts and only show components that you wish to view, and you can create CAM programs for the parts which are visible.
AE Aerospace has also benefitted from the support offered by Cadspec throughout a wide range of projects. They have been highly responsive and delivered in-depth feedback when called upon over recent months in particular.
Brian Hawkes further commented:
We have complete confidence in Cadspec's support and their expertise as an organisation.
Positive prospects
As AE Aerospace evolves its design and engineering capability over time, it plans to make greater use of  Fusion 360 with PowerMill for modelling every stage of a project and of a part whether that is a simple fixture design, or moving through to packaging and creating models for that.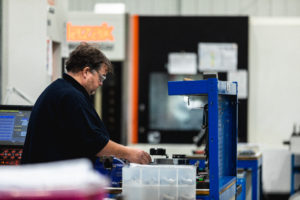 The complementary focus the company has on continuous improvement is focused on engineers making more extensive use of Fusion. The company will have two distinct ways of looking at projects moving forward: complex, using five-Axis manufacturing and PowerMill or more routine in terms of what needs to be done to continuously improve parts, and smaller projects, using Fusion 360.
Cadspec is now also engaging with AE Aerospace on 3D printing technology.  AE have purchased their first 3D printer and are looking forward to developing the opportunities that this technology offers.