Who are BLOX?
BLOX uses manufacturing technologies to rapidly build acute-care medical facilities in states throughout the US—by fabricating building components in a factory, shipping them to the jobsite, and assembling them in place. With a flexible, integrated cycle of design, manufacture, and construct, BLOX's approach to modular hospital construction serves as a model for adding capacity to a stressed health-care system.
The Challenge
BLOX started out prefabricating smaller standard components such as ceiling racks, surgical racks, hospital headwalls with electrical and medical gas systems, and bathroom modules complete with plumbing.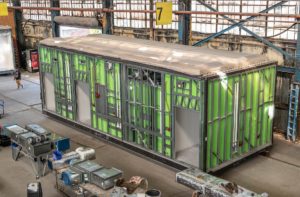 They are a long-time user of Revit to design their building components. The next step was to integrate the digital designs with the manufacturing process on the factory floor, via a cloud-based data-management system. They wanted to go from model to fabrication – systematically.
Why Autodesk?
We've developed a platform called WEVR that uses our own software development with Forge and BIM 360.
BLOX CEO Chris Giattina
The WEVR platform mines the data from myriad state health-care regulations and input on clinical practices from health-care facility staff and management to identify hundreds of design possibilities. An algorithm reduced the design possibilities down to a few standard ones that meet multiple states' rigorous requirements.
 
Results
The company's DMC delivery system has helped BLOX take an agile approach to this once-in-a-generation challenge.
The company has developed a design for a 16-bed MICU ward that can be manufactured as modular units at the plant, transported by truck, assembled on-site, and ready for patients a week later. According to Giattina, the first MICU could roll off the production line in just four weeks. BLOX expects to be able to rapidly scale capacity to produce 250 beds per month at its factory, and 10 times that amount through supply-chain partnerships nationwide.