Bucks New University is a new breed of university, focusing on degrees that are professional and practical, as well as academic.
Young in outlook, but well established in the fields they specialise in, they offer high quality, professionally-driven university courses, in everything from nursing, health, and social care, to cyber fraud detection, textiles, and film making.
The Challenge
A new course to join the university recently was 'Production Design' headed up by the talented Karen Roch – who has a wealth of knowledge in all things film, cinema, and prop making.
The Production Design course at Bucks University teaches students how to embrace their creative side and develop the skills they require to bring productions and performances to life.
Karen Roch – Senior Lecturer and Course Leader of this new course at the University was insistent that her students use the best software and technology to enhance their learning experiences. Reaching out to her contacts in the film industry, it all pointed in one direction. Autodesk Fusion 360 was being used in many big feature films in the US filmmaking industry, and for them was a game-changer for set design and prop making. Karen commented:
Pacific Rim, Avatar and RoboCob were just a few of the feature films using Fusion 360 in Hollywood. Without a shadow of a doubt, this is the way forward. By introducing the software application for my BA students in production design, it enables them to obtain the technical  skills to prepare them for industry whether it be protoyping/model making or elements of set design.
The Solution
Students and educators get a free one-year educational access to Autodesk products and services, renewable as long as they remain eligible. The software was a tick in the box, now Karen needed the correct level of training in order to teach her own students.
Karen reached out to her Additive Manufacturing contact at Tri-Tech 3D for some contacts within the industry to help facilitate Fusion 360 at the University. Cadspec Ltd was recommended to Karen as the UK's leading Autodesk design software training and consultancy business.
Karen commented:
Cadspec were recommended to me by Robert Pitts, and I'm so glad they were. They have given me constant support from the beginning of my  Fusion journey. Alex or Stefan are always at hand to answer any queries I may have no matter how small or complex!
Karen attended a number of Fusion 360 training courses with the Cadspec team in Derby, covering everything from 3D Modelling to generative design. Her experience of training with Cadspec was nothing but positive, she followed by saying:
It's so important to have the right people around you when learning about a new product and its capabilities,  Cadspec provided that support.
Once the students at the university were able to work with the software, there was no turning back. Karen told us that the pupils on her course hit the ground running with Fusion 360, and are looking forward to using it for their final year assignment, which will be designing and building their own film set.
The students at Bucks New University are using this software to design sets for a wide variety of projects leading towards their dissertation in their final year. It enables them to design sets and props and send their Fusion files to their 3D Printer for faster prototyping and demonstrations.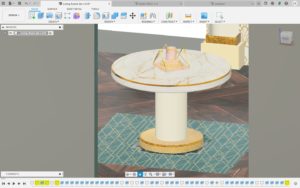 Alex Bordino, Manufacturing Technical Specialist at Cadspec commented:
Its been a pleasure to collaborate with Karen on this project. Fusion 360 has empowered the students to iterate, design and realise their design concepts faster and in more detail. Strong additive manufacturing toolsets and capabilities, within Fusion 360, will allow them to progress further, in creating tangible high-quality prototypes and manufactured parts, directly from their digital models. The integration of a complete CAD/CAM and simulation package such as Fusion 360, has enabled Production Design students to work more closely with Product Design students at the university, enhancing cross course collaboration and giving the students a more realistic approach to manufacturing their set designs, as would be the case in industry. The standard of work the students have produced after a few weeks of receiving the software is inspiring, and we look forward to seeing how this develops and supporting the course in the future.
The Future
Enabling students to use state-of-the-art design software and 3D printing, makes the Production Design Course at Bucks University already very advanced – but Karen Roch believes this is only the start. She commented:
I had a vison straight away this was the way forward. It is just a matter of time before Fusion is the go to application. What's great about Fusion compared to other competitive software's is that it is constantly updated. This is what students need. Give it a few years and this will be the film industry standard software.
Alex Bordino agreed and commented:
Being the first Production Design Course to adopt the Autodesk solution as part of the curriculum in the UK, Bucks New University are leading the way.