Established in 1982, KGD is a privately owned, UK-based, package manufacturer with in-house design, manufacturing, inspection, painting, and testing facilities. The company employs 100 people and works for UK industrial customers and international engineering and oil multinationals on projects ranging in value from £5,000 to over £15 million.
Since its earliest days, KGD had been intensive users of Autodesk AutoCAD,, a design software package which is used to create 2D drawings. It had always found the software reliable and robust. Over time, however, the company started to look at how to drive further efficiencies in its processes. It was finding that AutoCAD was struggling to manage the model sizes it was working in. Large assemblies are especially unwieldy in 2D and can be hard to read; understand or edit. KGD soon realised it needed to make a change.

Finding ways to drive efficiencies
To find a way forward, KGD turned to Cadspec, an Autodesk Gold partner and computer-aided manufacturing (CAM) specialist. Cadspec carried out a discovery session, which evaluated KGD's design and manufacturing workflows. Through this approach, Cadspec identified opportunities to make KGD's processes more efficient; reduce design time, and save it money on administration of bill of materials; and the management of drawing and manufacturing data, all the way through from the initial design phase to procurement and distribution.
Richard Parkes, Sales and Business Director, Cadspec, explained:
We wanted to help KGD capture more design and engineering data and accelerate the process of drawing and designing. By introducing them to Autodesk Product Design and Manufacturing Collection, including Autodesk Inventor, and Autodesk Vault Product Data Management software, we were able to take them from a 2D digital drawing board and drafting package right through to a digital prototype which enabled them to simulate and test their product in digital space prior to manufacture. We highlighted that the 3D modelling, delivered by Inventor, was more conducive to making design changes. It would help them from a visual point of view: it handled large assemblies well and helped their sales and commercial team sell a concept to the customer better.
The final clinching factor in the decision to implement Autodesk Inventor was KGD's familiarity with Autodesk software. As Stacy Priddy, KGD's IT Manager explained:
We knew and understood AutoCAD and our design team were trained on it. Many of the skills they have gained transferred across to Autodesk Inventor. This was another factor that helped crystallise our decision.
Scoping out the benefits
By using Autodesk Inventor, KGD is able to highlight potential errors and rectify them in the design phase rather than in manufacturing. By pinpointing issues and addressing them at this earlier point, KGD has achieved significant cost savings.
According to Stacy, all their design work is now done in Inventor.
We make Skids, steel-framed platform-like structures for the oil and gas industry. These are large and contain a lot of pipework. The ability to use Inventor is a real benefit in this context. It contains a pipework programme which allows our design team to draw the pipework up quickly. What previously might have taken a week can now be done in 1.5-2 days. Modifications which used to take a further week with our whole approach can now be completed in a day. With Inventor, the time we save is phenomenal.
Overall the time taken by KGD to complete the design phase of projects has reduced by around 60% since the firm started using Autodesk Inventor. In addition, the time taken to create an effective bill of materials and manage all that data through its database has also fallen by 50-60%.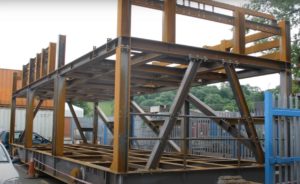 Stacy advises that using Autodesk Inventor has also enabled KGD to reduce human error.
With Inventor, if a change is made in one place in the model, that change is instantly reflected everywhere else. If you decide you want the base of your model to be 10% smaller you can tell it that and everything adjusts accordingly. Previously, we would have to make every individual adjustment separately. In the past, we might have got 99% of these changes correct but the other 1% might have been key and caused problems further down the line. Now using Inventor helps to ensure us, we won't have to deal with issues elsewhere.
Cadspec has been with them every step of the way. They have trained all KGD's engineers on Inventor. In addition, Cadspec has offered general support on any design issues and helped advise on the Autodesk product roadmap and new features emerging.
Today, Cadspec and KGD are working together to evolve KGD's 3D design capability still further. As Cadspec's Richard states, their enhanced capability is delivering new benefits all the time:
Today, KGD has a huge database of parts they can reuse so instead of reinventing the wheel for every project they have started to reuse the digital data they have created to make new projects easier and they are looking to automate some design processes which will again reduce design time.
Stacy Priddy from KGD is also looking forward positively to the future…
The service and support of Cadspec has been very beneficial. We have never had a question they have not been able to answer they are a very knowledgeable team they will always come back to us within a day or two even if they are not sure initially. We have complete trust in Cadspec and the Autodesk software. We are confident we won't have a problem with anything we throw at Inventor and in the event that we do we know Cadspec will be there to help us at the drop of a hat.