Founded in 2011, Laser Wire Solutions is a pioneering expert in laser wire stripping. It designs a complete range of semi-automatic and fully automatic laser wire stripping machinery for the precision stripping of insulation from high-tech wires and cables. Customers operate in a range of sectors: from medical devices to telecoms and automotive, with a particular focus on electric vehicles. Laser Wire Solutions has a strong focus on innovation and customer service. As a result, it has a requirement for both high-quality integrated design software and also tools for data management.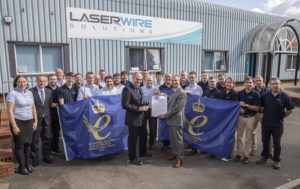 From its very beginnings, Laser Wire Solutions was keen to use Autodesk software. Many of its designers were already familiar with Autodesk design and data management solutions, having worked with them in previous roles. They were both familiar with and liked the software. Laser Wire Solutions, therefore, decided to implement and make use of Autodesk software from the start.
Today it has multiple licenses of Autodesk Inventor Professional 3D modelling and design software in place together with licences of the product data management (PDM) software, Autodesk Vault, and the cloud-based integrated 3D CAD software, Fusion 360.
With the backing and support of its partner and locally-based Autodesk reseller, Cadspec, Laser Wire Solutions uses Inventor to design all its bespoke machinery and all the manufacturing parts it uses including machine parts and sheet metal parts. It has four mechanical engineers who currently use Inventor.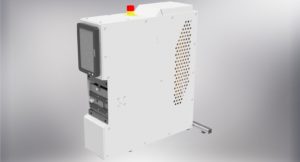 The Ideal Data Management Solution
In terms of data management, Laser Wire Solutions used Autodesk Vault Basic initially. With Inventor in place using Autodesk Vault as primary product design management (PDM) software was always going to be the most logical choice due to the interoperability and compatibility of the two product lines.  As the business grew, with more designers, more products, and more customers coming on stream, Laser Wire Solutions realised it needed to move to a system that could facilitate not just designer access but also access for other members of the wider team – from order processing to the shop floor – and could also provide more sophisticated handling of release management together with the ability to manage and track changes across the whole process.
It now uses Vault Professional to manage all its CAD files and all its bills of materials (BOMs) for the machines it designs. With Vault Professional in place too, the shop floor and the design team were now closely aligned rather than being disjointed as before.
Matthew Jones, Laser Wire Solutions commented:
Previously, we were dependent on manufacturing or design users printing out files and manually handing them out to users on the shop floor. It was a difficult unwieldy process and it could be error prone. But with the new approach backed by Vault Professional, it is a lot easier. There are many fewer mistakes and the workflow is faster and more seamless.
An Evolving Capability
Through the pandemic, Laser Wire Solutions has been able to build further on this solid platform of seamless integration. It invested in 3D printers for some homeworking staff and with the help of the connectivity and integration capabilities provided by Autodesk Fusion 360, of which it has several licenses in place throughout the business, these employees were able to explore new ideas and work on product development initiatives – from metal brackets to electrical cabinets.
Following demonstrations, training and support from Cadspec, Laser Wire Solutions took the decision to implement Autodesk Vault Professional. Since then, the company has been able to much improve data flow between different departments.
Leveraging Vault Professional's capability to support unlimited web client viewers, the manufacturing department can always see the right version of the product they are making, which means the right products get made at the right time.  Utilising Vault Professional's item master configuration allows multiple document types to be grouped together as a package for a product which makes document management easier and more intuitive. Over and above this, the sales order processing team has implemented Vault Office to control associated relevant documents in Vault too.
Scoping Out The Benefits
Today, Laser Wire Solutions is benefiting significantly from its use of Autodesk software. The fact that the solutions are all well integrated is a major advantage. Vault works well with the Inventor licenses for example. It is the best available tool for managing data from Autodesk Inventor. Those designers using Autodesk Inventor Professional can make use of the product's web client capability, allowing them to have multiple preview viewers of the Vault data.
That capability also opens up the design data to a wider team in a controlled manner. Matthew Jones further commented:
Rather than someone doing a quick design in Inventor; creating a PDF and putting it on a server somewhere, which would mean there was no link or control rather than the relevant server folder security, with Vault Professional, users that are outside of the design department are controlled. They only see the versions of a document they are authorised to see. That has enabled design data to flow better through the team, and greater confidence in the whole process
Arguably the main benefit that Laser Wire Solutions gets from using Autodesk Vault Professional though is the product's BOM management together with the lifecycle management of items.
Laser Wire Solutions additionally has a couple of Vault Office licenses which means the sales and order processing departments can integrate their data with design data also. That allows Laser Wire Solutions to create more comprehensive and fully integrated design data packages rather than having to have a design file in one system, a product spec in another, and order and supply details somewhere else again. This supports a streamlined seamless data workflow and allows the business to access the data it needs when it needs it.
Robust Technical Support
Being able to save the data to a committed Vault server machine in the office is a further important benefit. Cadspec plays a key role here in terms of consultancy around the Autodesk products and running demonstrations of the software. It provided the technical know-how too to enable Laser Wire Solutions to upgrade its data to Vault Professional and also carried out training.
Laser Wire Solutions has benefitted significantly from the Cadspec relationship. It has always found the Cadspec team to be friendly and knowledgeable and able to provide good advice.
They have a good understanding of Inventor so if there is anything we are struggling with on that side, they can support us and offer training.  They offer great support on Vault too which can be difficult to configure  They respond very quickly to any questions that we ask.
Matthew Jones
Looking To The Future
Moving forwards Laser Wire Solutions plans to continue using Vault Professional. It has configured Vault using item masters which allows it to group lots of different documents together in one package.
Matthew Jones concluded…
Over the past few years, with the help of Cadspec and the Autodesk software, we have been able to make massive improvements in the way we use CAD and manage our data. We are today still focused on streamlining that approach. It is a matter of cleaning up our current process and making it work. With Cadspec's support and the Autodesk software key to our design and data management work today, we are looking forward confidently to the future.