Who is Steel Precision Group?
Steel Precision Group is a structural steel detailing company. As a steel detailing company, they provide a specialised service for their clients in the steel industry, primarily working with structural steel fabricators, though, on occasion, working directly with builders.
Whoever their client may be, the task they undertake is the same: drafting structural steel workshop drawings and related documentation, showing the exact properties of every component a structure will use. These ultra-specific diagrams allow fabricators to undertake their projects with confidence. A robust and dependable set of tools and software is paramount to a healthy workflow for this company.
The Challenge
To ensure success, their structural steel workshop drawings require an extremely precise level of detail. Every day, the company presides over the big picture designs to make sure every angle, beam, bolt and joist is accounted for in the shop drawings they provide for their clients. Steel Precision Group needed software that was not only reliable but also enabled them to manage their digital toolkit.
Why Autodesk?
Revit is used by the majority of the design consultants we work with and DWG is the most popular design format in our local industry. We initially purchased Advance Steel because it is compatible with both Revit and the DWG format.
Jim Kennett¸ Senior Drafts Person from Steel Precision Group
With the steel design and fabrication industry's reliance on CAD software, the interoperability of Autodesk's programs have proven essential to expediting workflow. Many of Steel Precision Group's contracts start with designs made in Revit, which they can easily convert into Advance Steel files and back out again. In fact, this initial selling point has proven more useful than the Group ever would have anticipated.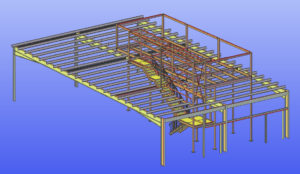 What began as a pragmatic business decision has become a fundamental part of daily workflow at Steel Precision Group. The AEC Collection helps across all of their CAD-related needs. They use Autodesk's Advance Steel for steel detailing drawings, and Revit and Naviswork Manage to handle file conversions, review drafting and facilitate communication with clients.
Results
Steel Precision Group is currently using Advance Steel to model and produce the shop drawings for a project consisting of over 1,000 tonnes of structural steel.