Who are TNM Architecture?
Wolverhampton-based, TNM Architecture provides architectural, town planning, construction design, and management, project management, and interior design services to commercial, educational, and residential customers both locally and throughout the UK.  To carry out this work, TNM is focused on using innovative technology to help deliver enhanced engagement with clients and business advantage in a competitive marketplace.
In line with this, TNM Architecture leverages the latest construction-related 2D and 3D design software from Autodesk. TNM Architecture has been using Autodesk software solutions since its inception. Its designers are all familiar with Autodesk solutions and TNM Architecture has always been impressed with the quality of the software.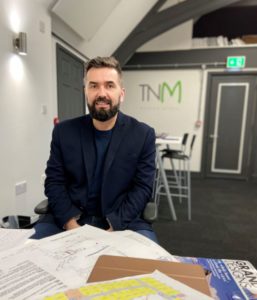 Nick Chapman, Director, TNM Architecture, said:
We are always looking to use innovative solutions where we can see a fit with our business needs and an opportunity to further improve the quality and efficiency of service we offer to our clients. Leveraging the latest Autodesk architectural design  software helps us to achieve that goal.
The choice of Autodesk is also endorsed by Cadspec, which works closely with TNM Architecture in implementing and supporting the software and in ensuring it is configured to best meet TNM Architecture's needs. TNM Architecture has been working with Cadspec since its launch. The two companies have a trust-based working relationship. Nick commented further:
Cadspec fully understands our business. They have been responsive in supporting our use of the software but also proactive in guiding us through new software updates but also in coming up with options to take our service to the next level. We are very grateful for the advice they have given.
Why Autodesk?
TNM Architecture uses a wide range of Autodesk software solutions for architecture. It predominantly makes use of Autodesk AutoCAD and Autodesk Revit as building packages, with around 75% of its building design work today carried out using the latter. TNM Architecture also makes growing use of the collaborative cloud-based tool, Autodesk BIM 360 Design as its common data environment (CDE) and as a means of storing its models. it is a solution that supports real-time Revit cloud work-sharing and collaboration workflows while at the same time, helping TNM Architecture to improve productivity, reduce rework, and accelerate project delivery.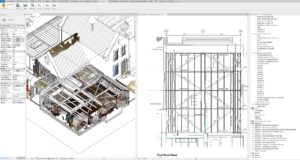 The use of Revit and BIM 360 Design has proved invaluable to TNM Architecture, especially during the pandemic as it allows them to work from anywhere they can get an Internet connection and supports collaboration between members of the design team and contractors and consultants.
Nick commented:
The ability to use cloud collaboration software from Autodesk has been critically important during lockdown. It has helped us keep up and running and productive at all times working from home closely together and interacting to further develop innovative designs. It is great to be able to place Revit models in the cloud and ensure that all key stakeholders on a project can access them centrally. This capability really improves collaboration and allows us to pinpoint and then resolve design challenges before any project goes to site.
TNM Architecture is also increasingly using Autodesk ReCap to develop point cloud surveys in support of BIM processes as a means of scanning and surveying buildings with a high degree of precision. It then using the data gleaned collaboratively through Revit and BIM 360 Design.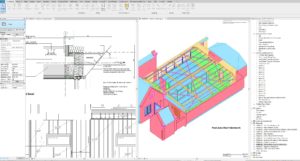 It also makes use of the Autodesk AEC Collection, which provides designers, engineers, and contractors a set of BIM and CAD tools that support projects from early-stage design through to construction. TNM Architecture has been introduced to Autodesk Navisworks which it primarily uses for clash detection and Autodesk InfraWorks which allows for modelling with a real-world built and natural environment.
Using innovative software like this and working in collaborative design environments has become more important as clients have become more sophisticated in their demands and requirements.
The Future
As Nick states:
Clients are generally more switched on these days to the architectural industry than ever before. They understand the latest technologies. They have come to expect high levels of technological capability and they are more aware than before of the transformative power of technology.
To keep pace with all this moving forwards TNM Architecture will need to continue to be innovative in the way it uses design software. Cadspec is set to continue to play an instrumental role not just in supplying TNM Architecture with the software and supporting it, but also in providing them with advice and consultancy.
Lee Valentine, technical sales specialist at Cadspec explained:
TNM Architecture's proactive use of cloud is key to their ongoing success. BIM 360 is the latest evolution of architectural and construction design and TNM Architecture has embraced it. They are able to collaborate through a shared cloud based central model, allowing for flexible anytime anywhere working. Looking ahead, I'm convinced TNM Architecture will continue to grasp the opportunity to innovate. They are starting to look at enhancing their BIM interoperability and model checking workflows. They have taken things we have advised them on and added them directly into their workflow. They are great at listening and utilising the right Autodesk tool for the right job. We are confident that they will continue to thrive in the design world of the future