AutoCAD Electrical has blown open the possibilities of electrical design – but what are the real-world benefits of this revolutionary toolset? Read on as we introduce the software, share inspiring case studies, and reveal how our AutoCAD Electrical training can take your control system design capabilities to the next level.
What is AutoCAD Electrical?
Think of AutoCAD as the ultimate toolbox. Just as in the physical world, you'd reach for a spanner or a wrench depending on the job at hand, so AutoCAD offers seven dedicated toolsets, each specialising in a key area of design. AutoCAD Electrical is one of the most important. Designed to massively accelerate your electrical design and drafting capabilities, it offers over 2000 schematic symbols that can be effortlessly inserted into devices and edited with a click, while making time-consuming manual reporting a thing of the past.
What are the key benefits of AutoCAD Electrical?
The core concept behind AutoCAD Electrical is efficiency – and studies have shown this toolset can boost productivity by as much as 95%. To achieve this, AutoCAD Electrical supports you at every stage of the electrical design process, from the initial creation of control systems and precise editing of schematic diagrams to real-time error checking and instant report generation.
We picked out some of our top features from AutoCAD Electrical that we love:
Simple Circuit Design: Take the first steps fast with Circuit Builder, or make your design as ambitious as you like
Wire Numbering & Component Tagging: Rest easy, with automatic numbers for wires and tags cutting the risk of error
Automatic Report Generation: The smart and time-saving way to generate and update customised reports
Customer & Supplier Collaboration: Share DWG drawings seamlessly across your team, wherever they're based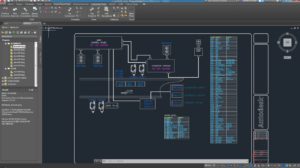 Smooth Project Management: Keep complex projects organised with a logical folder and file system
PDF Publishing: Present your schematics professionally for sharing with stakeholders
Instant Error Checking: Intercept issues and enter the build phase with confidence
PLC I/O Drawings From Spreadsheets: The easy way to pinpoint your project's I/O assignments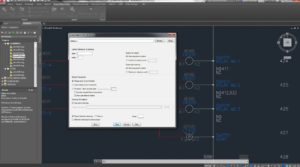 Can AutoCAD Electrical benefit my business?
Perhaps you're impressed by the theory – but doubt that AutoCAD Electrical will be right for your business in practice. You'd be surprised. As experienced providers of AutoCAD Electrical training and software to the UK industry, we've seen first-hand how this toolset can empower the design capabilities of companies in every sector.
With its open-ended flexibility, AutoCAD Electrical has been used everywhere from Martin CSI's development of the electrical panel for an ice cream filling machine, to Martz Technologies' supercharging of their efficiency. "It's like we're just on the tip of the iceberg here," says Martz project manager David Slusser of Electrical, "and there's much more for us to learn and use in the future."
How can I get the most from AutoCAD Electrical?
You may be thinking, 'yeah this all sounds great – but I won't even know where to start'. The good news for you is AutoCAD Electrical is designed to be supremely user-friendly. But to really dig into this powerful design software and start reaping the benefits of its deeper features, our AutoCAD Electrical training is a great option.
Whether you choose our remote learning option or attend an in-person training session at one of our centres around the UK, Cadspec's expert trainers will cover Electrical topics from panel drawings to copy/reuse circuits – and give you the practical understanding to power up your own electrical design.
To find out more about the AutoCAD Electrical toolset, or book a place on our AutoCAD Electrical course, get in touch today.