Cloud based you ask? Yes, indeed, behold- your design data, be that technical drawings, parts, assemblies, simulation studies etc, is kept safe and secure on the cloud, in a single location, with unlimited storage and access. If unlimited storage wasn't enough you also get unlimited installs, and unlimited team member invites to your Fusion 360 projects. That gives the design team incredible flexibility to collaborate and create anywhere, with anyone in the world. Critical advantages in order to design products more efficiently.
Fusion 360 vs Inventor
Lots of people have asked this question since Fusions inception, and there are some great comparisons between the two- here is our take from experience.
While both of these programmes have incredible features and in terms of part modelling capabilities are fairly similar, Fusion does excel in quite a few areas. It is important to note however, that Fusion 360 is still in its infancy in CAD terms. Inventor is well into its early thirties release version whilst Fusion- only five. Being more established, Inventor has more power and stability which would be expected, and can manage larger assemblies more effectively. Greater functionality is also achieved in terms of advanced FEA simulation and time saving design accelerators.
Power of the Cloud
Fusion 360, is completely cloud based therefore, access and collaborative aspects of the software are smoother through my experience. Cloud based with unlimited storage alleviates some IT worries of design managers, which is always a plus. Users of Fusion get greater transparency throughout the design process. Everyone on the project can view, mark up and comment on 3D models and drawings, even on a mobile device. Fusion 360 enables everyone on your team to be on the same page, this means no time is wasted making sure everyone is on the right software version or what viewer they support or file formats they accept. Everything is self-contained! However, should you need to work with some non-native CAD formats, then fear not, as Fusion will happily take most other CAD formats, as will Inventor. It can be argued that Inventor, is definitely best in class at this particular feature.
The power of the cloud with Fusion 360 can be utilised further when it comes to rendering. All designers know the bane of leaving a machine on overnight to render that final product image, especially after meticulously setting up various lighting and environments. Doing this is fraught with risk, a simple power outage or machine overheat would lose the render, and let's not forget leaving a machine on to render for hours is valuable time and energy wasted. Fusion 360 has it covered, designers can actively render in the cloud. When the render is complete the image will send itself to your machine. This means you can continue working whilst rendering.
It's a complete 3D digital prototyping, validation and manufacturing programme
The most striking difference that sets Fusion 360 apart is that CAD, CAM & CAE are self-contained in one programme. This speeds up the design process as time is not wasted importing and exporting design data from one programme to another. Changes can be made quickly and efficiently, with updates to toolpaths being reflected in parts, assemblies and even technical drawings. Fusion provides the platform to allow designers to progress from the design stage to manufacturing in a much more organic and fluid way. Straight from the part or assembly model, designers can use the CAM capabilities of HSM within Fusion, to generate, optimise, simulate toolpaths, validate them, and then export straight to G-code.
Fusion also packs features that enable easy exportation to a 3D printer for rapid prototyping. Don't let these manufacturing processes limit your design capabilities though, as Fusion 360 is more than equipped to design for a multitude of standard manufacturing techniques, as is Inventor.
Freeform Modelling
Fusion 360 not only enables designers to model in the conventional way, but also to completely sculpt 3D entities like virtual clay on screen. This in itself is impressive, and forms can be created with either push and pull commands, but using the bridge command allows transition from one form to another. Sculpt commands within Fusion give designers unparalleled flexibility to create organic and free flowing geometries that conventionally with surface modelling, would take much more skill and time to create. That being said Fusion 360 still packs all the surface commands Inventor does. Once freeform sculpted parts have been created designers can switch back over to parametric features like holes, bosses, or ribs, by simply switching the workspace in the ribbon. Easy.
Generative Design Technology
All the rage and for good reasons, generative design add in for Fusion 360, allows designers to 'mimic nature's evolutionary approach to design'. Simply model as normal, input design goals into generative design software, along with parameters such as materials, manufacturing methods, and cost constraints. The software then using the cloud explores all the possible permutations of a solution, quickly generating design alternatives. It tests and learns from each iteration what works and what doesn't, through in-built simulation. This results in incredibly efficient and organic parts that have material applied only where it is required. This process of model creation is highly suited to additive manufacturing where these complex forms can be generated.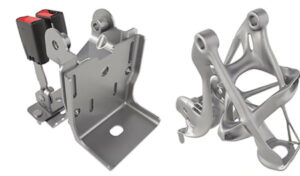 So what do I buy? Inventor or Fusion?
This is actually a hard question to answer but also for the right reasons. Both programmes are exceptional in terms of 3D modelling and simulation. The real answer depends on your business requirements. Cadspec, are Autodesk Gold Partners and have been selling, training and consulting Autodesk software in the UK for over 20 years. We are ideally placed to review your CAD design requirements, whether architectural or mechanical, and find the right solution for you, that will both maximise productivity, improve accuracy, and provide the return on investment you require.
How easy is Fusion 360 to learn?
As easy as any other 3D CAD programme, as most designers/engineers have experience with some form of CAD, learning a new format is usually not too alien. Cadspec provide professional Autodesk accredited 3D CAD training for all Autodesk softwares that your business may require, including Fusion 360.