Who are POLO Architects?
POLO Architects is one of Belgium's leading architecture firms, specializing in architecture, urbanism, and interior design. Founded by Mauro Poponcini and Patrick Lootens in 1991, POLO architects has grown to become a multidisciplinary team of over 100 creative professionals with offices in Antwerp and Brussels. Over the years POLO Architects has built up a national and international portfolio, comprising competition-winning entries.
The Challenge
In Edegem, a town just outside Antwerp, Belgium, an ambitious redevelopment project is underway. POLO Architects and partners are creating a new residential site next to the Hof ter Linden castle. The car-free neighborhood boasts a vast parkland, which connects to the adjacent castle grounds and is open to the public.
The Elysia Park project contains 345 residential units, from apartments to assisted living facilities, attracting residents of different generations. Every building offers views on the gardens, the ponds, or the park, thanks to clever planning and large panoramic windows.
The Elysia Park project is divided into four building clusters, realized in phases, one after the other. The project started several years ago, and during the first two phases, the teams did not use a collaboration platform.
Laura Rombaut, Architect & BIM Model Manager at POLO Architects explained:
The BIM model used to live on our company server, and we would export it whenever we needed to share it with external parties. We would send the model through WeTransfer and wouldn't know when it is used. The partner would take one or two weeks to get back to us, and by that time, the model might already be outdated.
The customer would often make remarks by hand on a printout, and these would need to be transferred to Revit. Or someone would take notes in a meeting and incorporate them into the model later, with potential omissions or misunderstandings.
Why Autodesk?
POLO Architects were keen to help their projects run more smoothly and started looking into collaboration software. Since they were already using Revit for modeling, BIM 360 Design was a natural choice.
Rudi Van Thienen, BIM Manager at POLO Architects commented:
We were so keen on using the platform, we persuaded our customer and our subcontractors to sign up for BIM 360 Design, as well!
The firm tried out BIM 360 Design on several smaller projects and was impressed with the results. So they decided to implement the solution at scale. And this is what they did for phases 3 and 4 of the Elysia project.
The project involves four key parties: the architects, the customer, structural engineers, and technical engineers. All are now collaborating on the BIM 360 platform. When the building contractors join at a later stage in the project, the plan is for them to use the platform, too.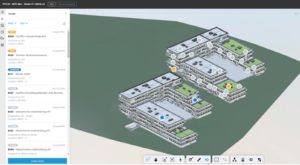 Results
Having all the parties work together on one platform on such a large project for the first time has made a big difference. All parties always work on the latest version of the model, which prevents a lot of mistakes and misunderstandings. Instead of comments on paper printouts, there are digital remarks, seen by everyone in the project.
Laura Rombaut commented:
The time we used to lose waiting for other modelers, for issue management – it's all gone. Everything is in one overview. No more emails, no more uploading and downloading.
The additional transparency means that if, for example, the client makes a remark intended for stability engineers, now the architects see it, too, and sometimes catch potential issues.
POLO Architects estimate a 50% reduction in the number of mistakes, and in the time needed to complete some project stages.
And as coronavirus-related restrictions were introduced in Belgium, the team could continue their work uninterrupted from home thanks to BIM 360 Design.
POLO Architects now plans to use BIM 360 Design on all new projects that have external parties.