Your Autodesk account now offers a new reporting feature called Usage Report, which allows users to view all their product usage on one page for both subscriptions and Flex. This feature is available to all admins on all plans.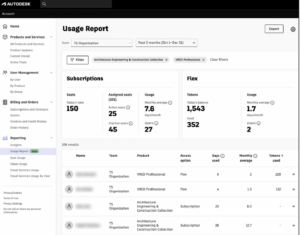 In the reporting section of the account, users can find important details such as the total number of subscriptions for their team(s), the number of active or inactive users, the number of Flex tokens used and remaining, and the monthly average of Flex tokens being used. The Usage Report saves time by providing a single report with usage across Flex and subscriptions.
Additionally, the report includes a list of users with at-a-glance summaries, including the products they use, the average number of days of use per month, and the number of Flex tokens used. This feature helps distinguish frequent users from occasional users and optimise their assignments. For instance, if a user only uses AutoCAD a few days a month, an admin can assign them to Flex instead.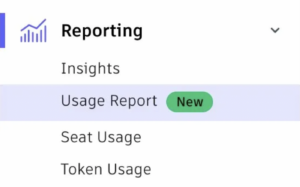 Users can click on a user's page for more details and apply various filters such as products, teams, or access type to further refine the data. If users want to export their data for further analysis and insights, any filters applied will also carry over to the export.
The new Usage Report provides a unified view of all users' product usage, enabling better-informed decisions. Admins can use this information to determine which users might benefit from being on Flex or subscription, when to purchase more subscriptions or tokens, or which inactive subscriptions can be reassigned.
In-product messaging for Subscription Overuse ❗️
Starting February 27, Autodesk will enable an in-product message for users who may attempt to run a single product subscription on more than two devices simultaneously. The message will prompt users to pause the session on the other device or sign in as a different user.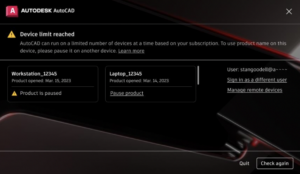 This capability will be enabled for Inventor and Civil 3D to begin with, and will eventually be enabled for more products in the future (keep your eye out for future communication from Cadspec).
How will this work?
For example, if you are drawing in AutoCAD on your desktop computer. You then take your laptop to a meeting and start AutoCAD. If you see a Device Limit Reached message on your laptop, you can pause the desktop remotely. You do not need to return to your desktop to sign out.
Multiple users accessing a shared device
If you use a product on a shared device, for example in a computer lab, you are encouraged to sign out of the product when you are finished using the shared device. If the person before you did not sign out, you should sign out and then sign in again using your own account.
Account Administrators – product access and user accounts
As an account admin, you assign product access to your users. Each user should be assigned an account that is unique to them. If your users share devices, they should sign out of the product when they are finished with the session.
This update will allow customers to ensure end users remain compliant and avoid overuse per our existing subscription licensing policy.
This update will impact:
Named user desktop products
All desktop operating systems
Product versions 2020 and newer
For any questions on the above information, please get in touch with your Cadspec account manager or drop our Customer Success Team an email: customersuccess@cadspec.co.uk